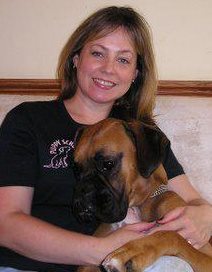 Lisa Matthews is the instructor at Cwtches Puppy Training.
She has worked in rescue and regularly attends training courses, workshops and seminars.
Lisa believes that kind, practical and positive training is essential to build strong bonds and trust between the owner and the dog.
Lisa has been around dogs as long as she can remember, and being born into a dog crazy family helped form her love of dogs.
Lisa has been working with dogs professionally for 12+ years. She has enjoyed various achievements including becoming a qualified Puppy School Tutor in 2007 then left to study and pass the APDT course in 2018. In 2019/2020 she passed the Pro Dog Trainer course and has been proud to complete various SoCS courses.
Lisa specialises in training puppies and adolescent dogs. She currently shares her home with a German shepherd, Collie, Pyrenean Mastiff mix called Mickey, who is a real character.