A bit about me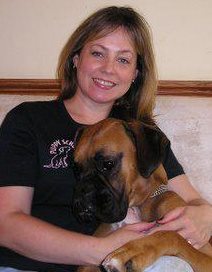 Hello, I'm Lisa!
With over 11 years of puppy training under my belt, I have worked in rescue centres and have regularly attended training courses, workshops and seminars to help improve my education in the dog training world, these include; Gwen Bailey, Patricia McConnell, Grisha Stuart and Dr Ian Dunbar, etc. with the last in May 2017 with Chirag Patel. In April 2018 I began studying with the Association of Pet Dog Trainers (APDT), which is fab and keeping me very busy.
In 2007 I was very proud to become a qualified Puppy School Tutor, a fab organisation founded and run by an international behaviourist and author Gwen Baily, and I loved every minute of it.
At the end of April 2018, I decided to leave the comfort of Puppy School so that I could build on my experience and continue my journey into the wonderful world of dog training.
I am lucky that I have shared my life with various animals and various breeds and cross breeds of dog, which include, Sally and Kelly the Poodles, my lovely Basil, who was a German Shepherd, Greyhound mix, and my gorgeous Boxer, Buster Boy. I now share my home with a German Shepherd, Border Collie, Pyrenean Mastiff mix, who is a real character. He is fun, loving and full of mischief, tests me every day and he is fab!
I believe that kind and positive training is essential to allow a foundation on which to build strong bonds and aid communication between owner and dog, and I will look forward to hearing from you!